Happy holidays, everyone! We're back once again and just in time to give you some Fallout: Miami presents, in this monthly update for the month of December!This video will feature a familiar friend, a desolate place to do your holidays shopping in and something that we do not condone using… for legal reasons!
We wanted to share a song booming with inspiration with you, so you can hopefully take on 2019 with a great, new attitude!
'Today I'm Facing the World' has been composed and performed by none other than our Sound Lead Sergey Neiss! It was sung by Garry Golden, a Pre-War sensation, and it will be surfing the Miami radio-waves, filling you with determination to take on anything… or anyone!
And here's that familiar friend we mentioned! Our er… cute, little radparrot friend has become a real, tangible presence in Miami Beach! Along with its bulbous sores and bilingual features!
The 3D model was expertly designed by Penelope Tay, also known as Ozeuth!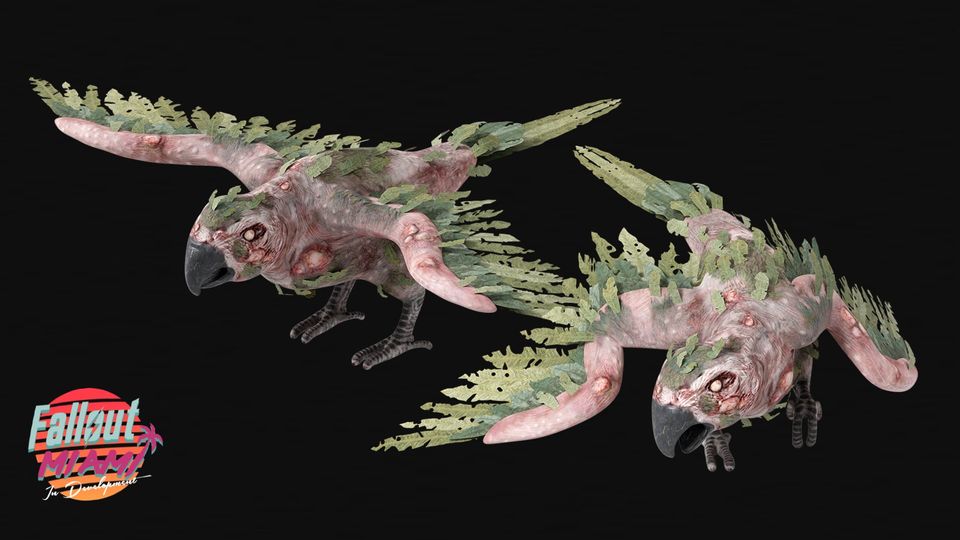 It might seem scary to begin with, but this Super Duper Mart could be the place you're looking for to get those last minute or even belated holidays presents! This level has been designed by the incredibly talented Pavel Nowski (quaz30). There have been rumours of who lurks within, but the only truth is that only the most desperate scavengers try their luck at the Super Duper Mart.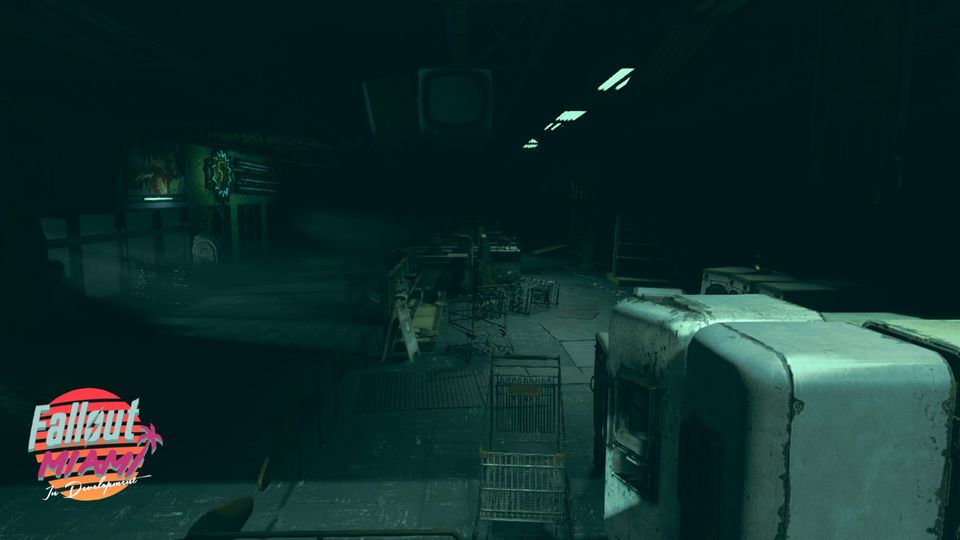 Some of its shelves have been picked clean since the bombs fell, but really good loot always finds a way to remain unseen. It is worth noting that there are some entrepreneurial people in the Vacation Wasteland, aspiring to provide for… certain pharmaceutical needs.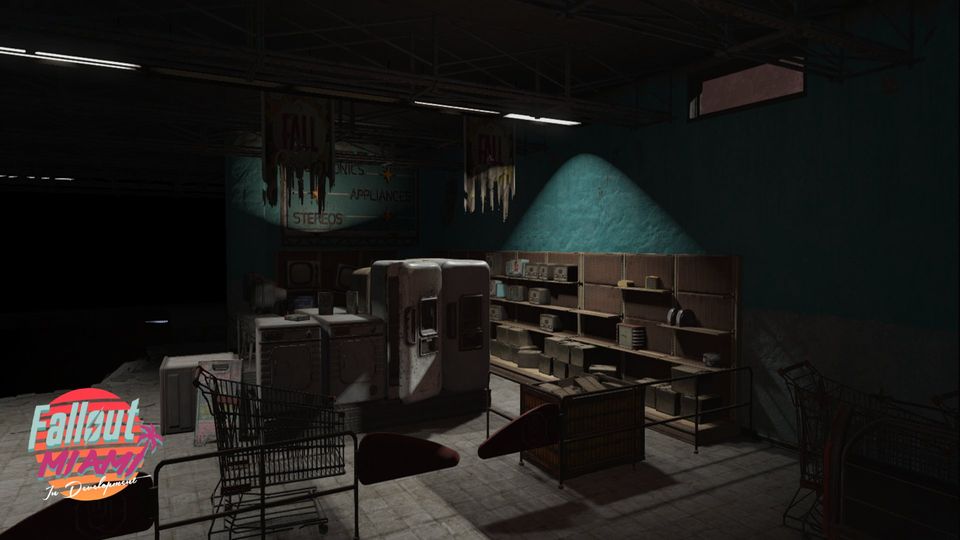 Onto the part of the video we would like to dub: "We don't condone chem use in whatever post-apocalyptic wasteland you hail from. Please, don't send the authorities in hopes of seizing our chem stash. It is purely rumoured and no factual evidence has ever been found."
Now that we got that out of the way… 'Push' is one of the two drugs the Cubanos have injected into Miami's chem usage circles. It is a highly addictive nasal-spray administered chem, with similar effects to that of other brain-activity boosting chems. The 3D model was first worked on by Meysam and then wonderfully edited and put together by the awesome Trey Ramm!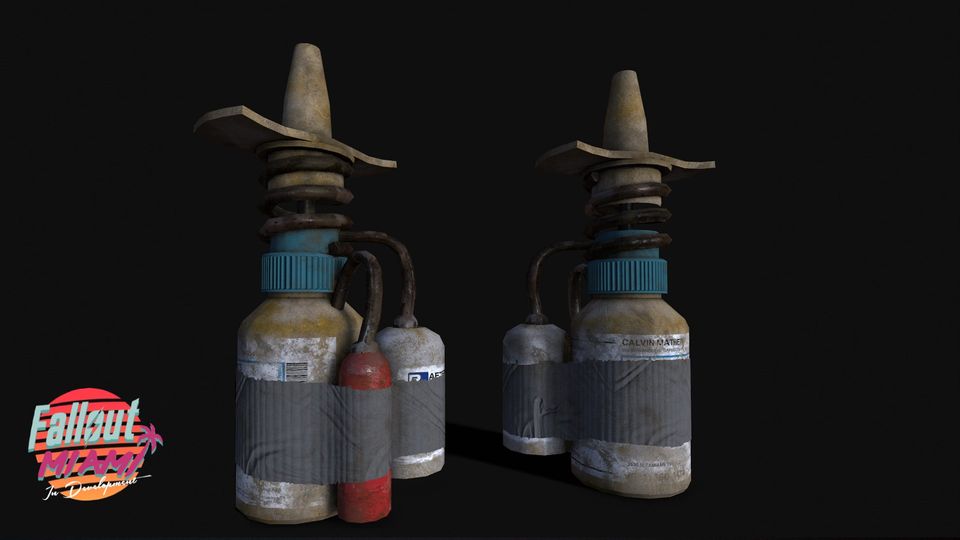 Lastly, we want to leave you with a friendly warning from your Miami Enclave: Don't be a hero! Or you'll be the meal… This poster will be seen here and there in the Vacation Wasteland, as the Enclave's foothold in Miami increases. I'm sure a lot of you have taken down a mutie before, or claim to… but it's in your best interest to listen to the future of America. This fear-inducing poster was done by our amazing concept artist, Cynical Bounce!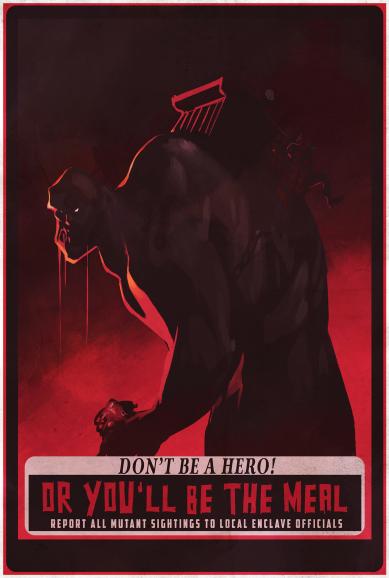 Well, that's all from us for now, folks, but we'll be back next month with more Fallout: Miami content for you! As always, if you think you have what it takes to help us make Fallout: Miami a reality, send us your application. See you next month and happy holidays! 🙂