Summer might be saying goodbye, but we're still around and we've got another Fallout: Miami progress update for you. This one's going to be a bit more lighthearted, we're not sharing too much new lore in September, just some fun stuff we think you'll enjoy.
It's been a hot minute since we've shown you a new song, but our audio team has been hard at work and it's about time we showcase a bit of what they've been up to.
This new ambient track, titled Sunburn Memories, can be heard while exploring the white, sandy beaches of Miami's Atlantic coastline.
As the title suggests, it evokes hot summer days long past. You can listen to it right here on our YouTube Channel. Sunburn Memories was composed by Matthew Bertram and mixed by Engon.
Sticking to themes of summer and sides of our project we haven't talked about in a while—we have a new issue of Miami Mornings to showcase. This one is all about the beach and will come with an appropriate sunlight based perk. We'll talk more about that once we've shown you all five issues of the magazine. The cover was illustrated by Laura Escoin.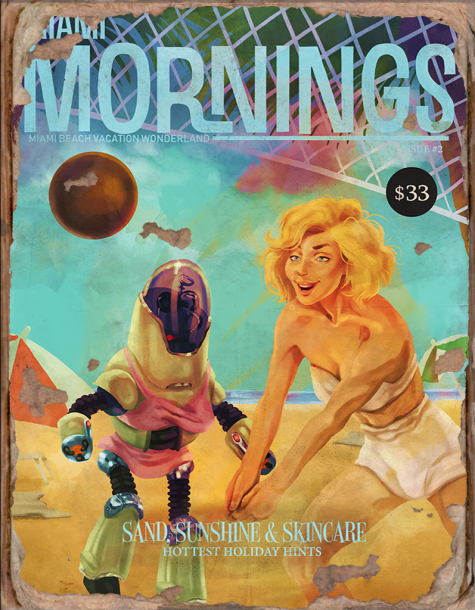 Now for something that never fails to excite—a new weapon! Sometimes, you need to look sharp. Sometimes, someone says the wrong thing and needs to be taught a lesson. A straight razor is a versatile tool fit for any occasion. And if a clean shave or a deep cut just isn't enough for you, you can always spice things up with some poison or a serrated blade. The one on the far right is a unique variant for when you can't stand any more blade puns and just want to get to the point. This weapon was made by iDamian.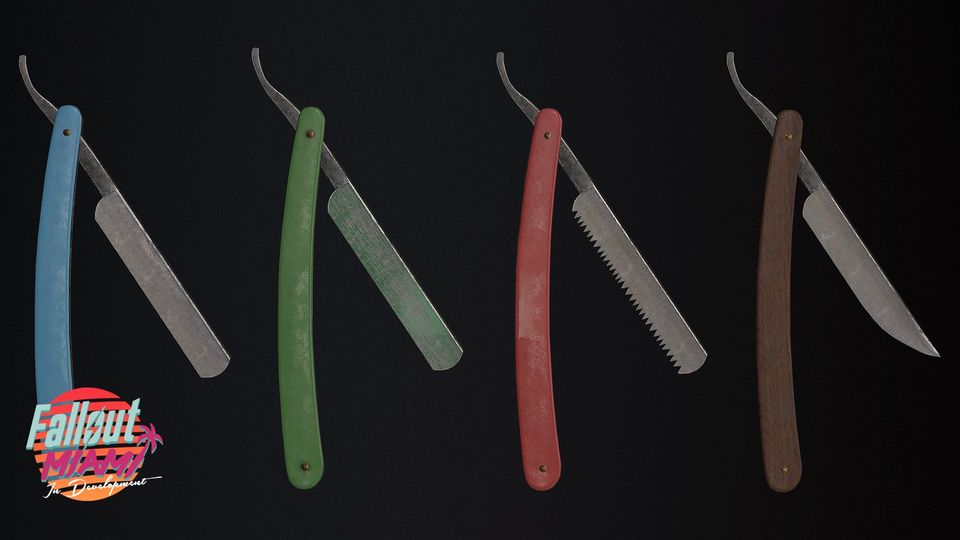 We dedicated last month's update to the Enclave and showed off some of their equipment. Since Fallout: Miami follows up on the events of Fallout 3 and features the Enclave as one of the main factions, we need to bring back a lot of their arsenal.
You might remember the automated turrets from the Capital Wasteland, they'll be making an appearance in Miami as well. While we are certainly working on new stuff for the Enclave, it's important for us to include things that are iconic and memorable. The floor-mounted automated turret model was made by CoolestGuy.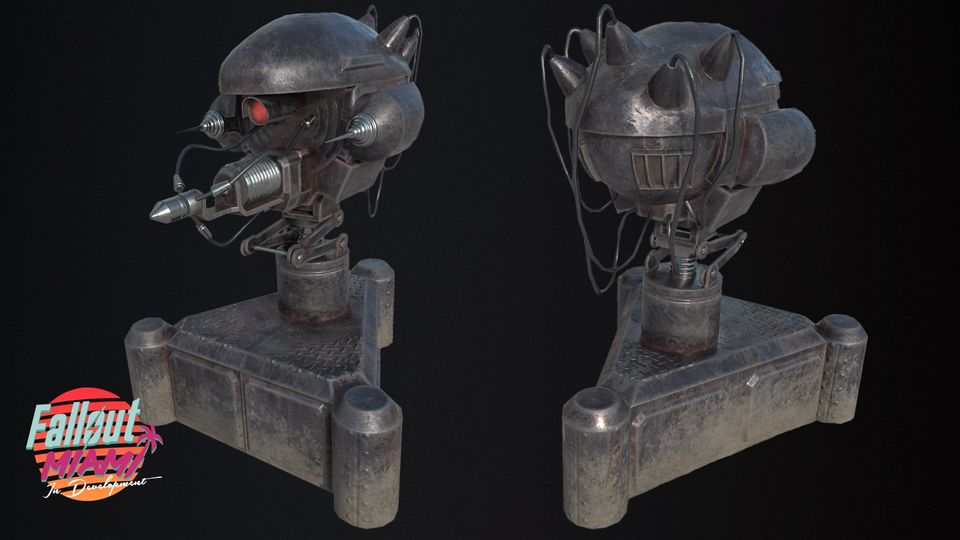 Speaking of last month's progress update and Enclave equipment, Mipply has finished the texture for the armored vehicle.
Some of you noticed that the design is a little different from what you would expect for a piece of pre-war military hardware. The reason for that is that this isn't, strictly speaking, pre-war military hardware, though we understand how the paintjob might give that impression. We'll talk more about the design and lore behind it in the future.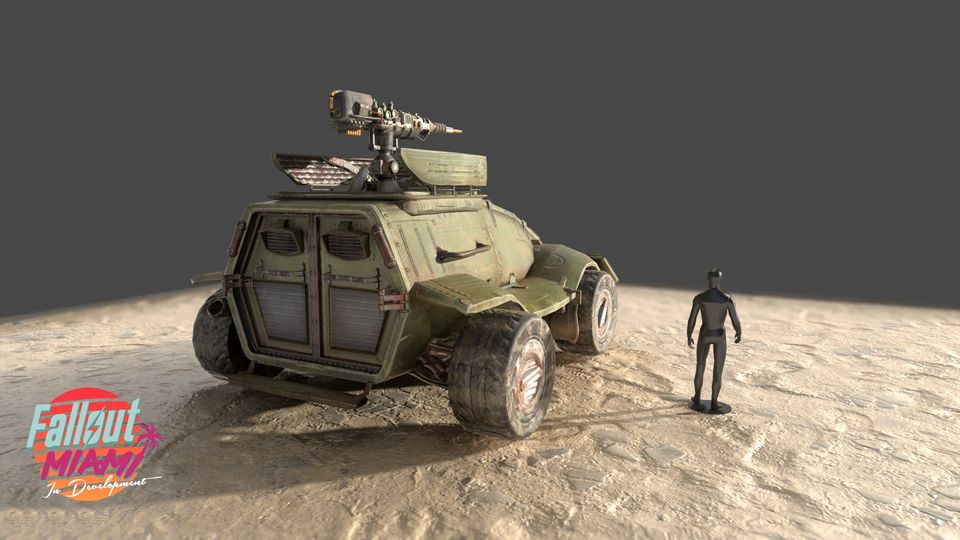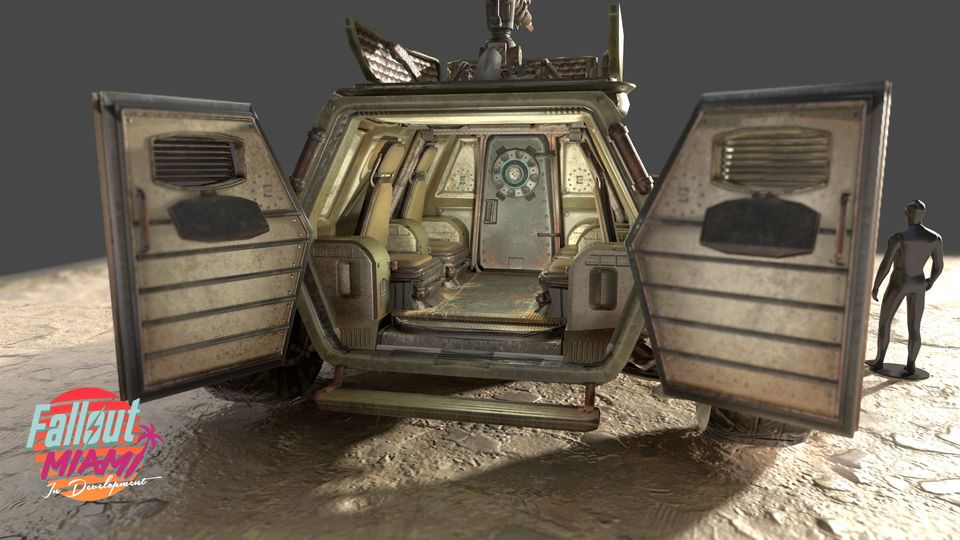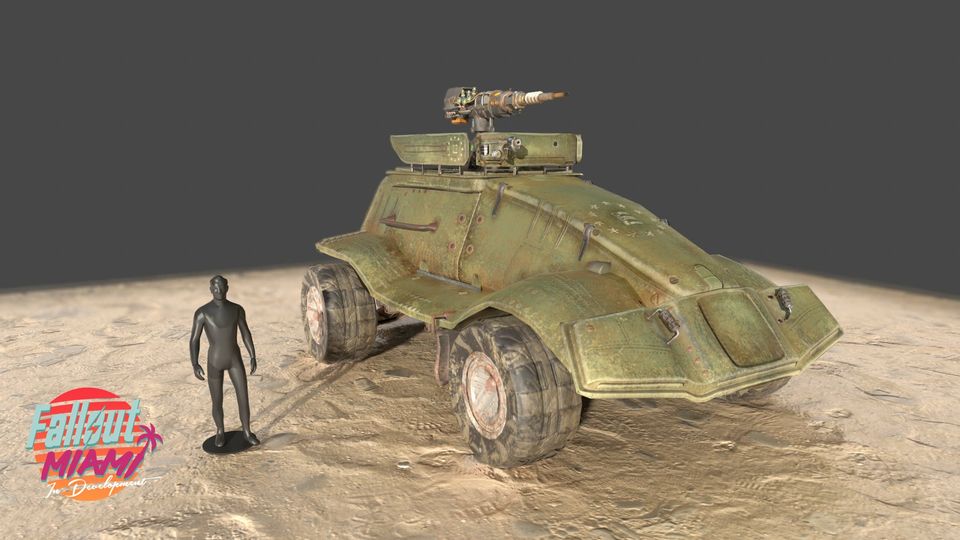 Last but not least, we have a fan-submitted idea that we liked so much that we just couldn't ignore it.
BlijeKoffie suggested a lifeguard Protectron on our community Discord. We liked the idea and, let's be honest, what's Fallout without some wacky robots, so we're going to go ahead and make it. Well, more of a lifeguard's assistant Protectron, we don't see them being very agile swimmers…
It's just concept art for now, but expect to see progress on it in the future. This one was also drawn by Laura Escoin.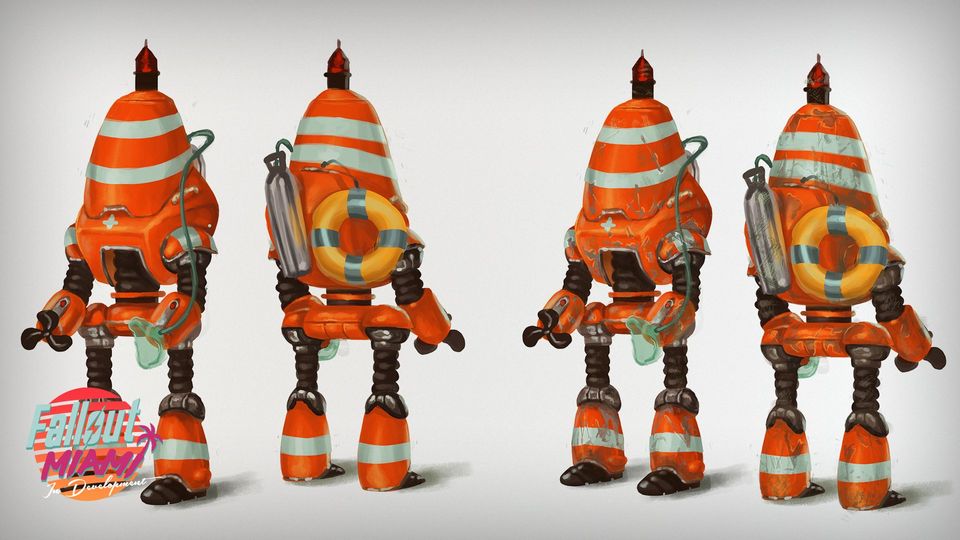 That's all for this month. Before we sign off, we just want to congratulate our friends over at the Fallout 4 New Vegas team on the release of their video showcasing character creation and the first few moments of the game. Keep up the great work, guys!
As always, if you want to help us make Fallout: Miami a reality, send us your application. See you next month!